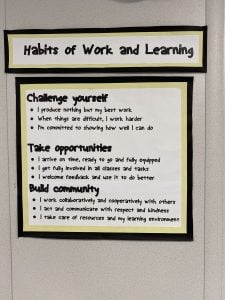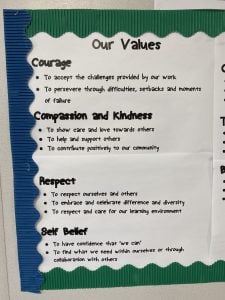 Our design principles underpin our curriculum and are that every experience should be designed so that it is rigorous, has relevance for students and the society that we are preparing them for, and that crucially it provides opportunity to develop the relationships that are at the heart of our work.
Our values are like our DNA or something that runs through us like writing through a stick of rock. They are who we are and link back to our concept of Haltung in that they colour all or our work and interaction and are what defines us and what we expect of everyone; students, staff, parents et al.
Our Habits of Work and Learning are how we demonstrate our values. They are what we do that reflects who we are. They are also ways of working and an attitude and approach to learning that form a basis for academic and learning success. Not only are our students taught these and their place in each piece of work highlighted and monitored, they are a central pillar of the work of our advisors.
Values
Courage
To accept the challenges provided by our work 

To persevere through difficulties, setbacks and moments of failure
Compassion and Kindness
To show care and love towards others

To help and support others

To contribute positively to our community
Respect 
To respect ourselves and others

To embrace and celebrate difference and diversity

To respect and care for our learning environment
Self Belief
To have confidence that 'we can'

To find what we need within ourselves or through collaboration with others
Habits of Work and Learning 
Challenge yourself
I produce nothing but my best work

When things are difficult, I work harder

I'm committed to showing how well I can do
Take opportunities
I arrive on time, ready to go and fully equipped

I get fully involved in all classes and tasks

I welcome feedback and use it to do better
Build community
I work collaboratively and cooperatively with others

I act and communicate with respect and kindness

I take care of resources and my learning environment